Injections in power station construction
Power station and dam injections
With regard to hydroelectric power stations, it is extremely important that the surrounding rock mass is sealed to ensure optimum energy production. For this purpose, DMI carries out rock and consolidation injections.
The coaxial gap of the armoured conduits must additionally be friction-locked and embedded by means of injections. DMI accomplishes this in the form of coaxial gap and/or prestressing injections. These extremely complex injections are performed and recorded using computer-controlled pumps (also with GIN control).
DMI Spezialinjektionen Süd GmbH has executed such injections on many power station construction sites in Austria to the utmost satisfaction of our customers.
Modern computer technology to control and regulate the injection pumps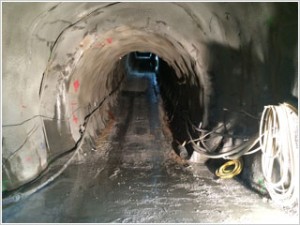 Prutz/Ried GKI Power Station, inclined shaft/pressure tunnel
---
Renovation and sealing of dams and reservoirs
Production of sealing curtains
Dam wall grouting
Wall reinforcements including needling