Construction joints come into being through the shrinking of concrete upon setting and temporally interrupted concreting sections as a result of the construction workflow (e.g. base plate/wall, base plate/base plate, wall/wall). In order to make a building structure functional and leakproof, its joints must be formed in such a manner that after the shrinkage process they can be grouted so they are permanently elastic (with PU resin) or friction-locked (with epoxy resin or microfine cement). The MIZ standard valve joint hose is ideally suited for this as it is easy to handle during installation and offers simple grouting. The MIZ standard valve joint hose consists of a PU hose with regularly arranged exit openings. Shrink tubes are arranged over the exit openings as sealing collars to prevent the ingress of cement paste during concreting.
Structure of standard joint hose system
---
The foam injection hose is a further development of the standard type. Here, the standard hose has been placed in open-cell foam. This foam type is mainly used in the case of challenging joints.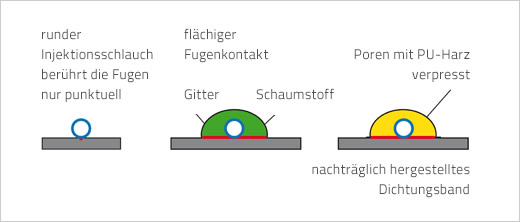 Foam injection hose
---
DMI SIMPLY SEAL injection hose for sealing joints – easier to re-grout thanks to a simple solution.
A frequent wish when grouting joint hoses is to be able to carry out a further injection process after an initial injection process and the hardening of the injection material. Many commercially available injection hoses offer re-grouting. With hose injections using PU resin or gel, these hoses can in some circumstances be flushed clean on the inside, but the gummed-up exit openings after the first injection process limit the scope for re-grouting.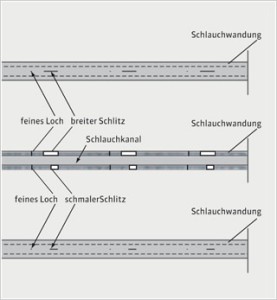 Schematic sketch SIMPLY SEAL injection hose with three differently sized exit openings
The specially developed DMI SIMPLY SEAL injection hose overcomes this
limitation with a simple design. The SIMPLY SEAL injection hose consists of a flexible PVC hose with regularly arranged exit openings in three sizes (wide slit, narrow slit and fine holes). The exit openings are produced by punching (no material removal), which prevents the ingress of concrete slurry and dirt during concreting. As such, an otherwise common protective textile sheath around the hose can also be done away with, which makes the hose a one-piece affair and therefore inexpensive. During the first injection, just the wide slits open due to the lower opening resistance and the joint can be grouted along its entire length. After rinsing out the hose, a second injection process can be carried out via the still open narrow slits, and the fine holes allow for a third injection cycle. This way, the injection material can reach all parts of a joint as a result of the distributed location of the exit openings.
Further information is available here:
www.M-I-Z.de
---
Our three injection hose systems:
MIZ valve joint hose, standard type (test certificate as PDF)

Foam type (test certificate as PDF)

DMI SIMPLY SEAL

The benefits of the MIZ foam injection hose are:

The foam ensures joint contact at all times.

By injecting permanently elastic PU resin or gel into the foam, it is subsequently possible to produce a permanently elastic seal.